About
Here you will find summaries of all the latest publications on lupus, focusing on those covering treatments, recommendations and other topics that may influence clinical practice.

Researchers from Trinity College Dublin establish a link between fumarate hydratase and inflammatory macrophages, identifying a potential future treatment pathway for lupus.
Effect of Belimumab on Kidney-related Outcomes in Patients with Lupus Nephritis: Post Hoc Subgroup Analyses of the Phase 3 BLISS-LN Trial
SGLT2 Inhibitors Alleviated Podocyte Damage in Lupus Nephritis by Decreasing Inflammation and Enhancing Autophagy
Safety and Efficacy of Long-term Voclosporin Treatment for Lupus Nephritis in the Phase 3 AURORA 2 Clinical Trial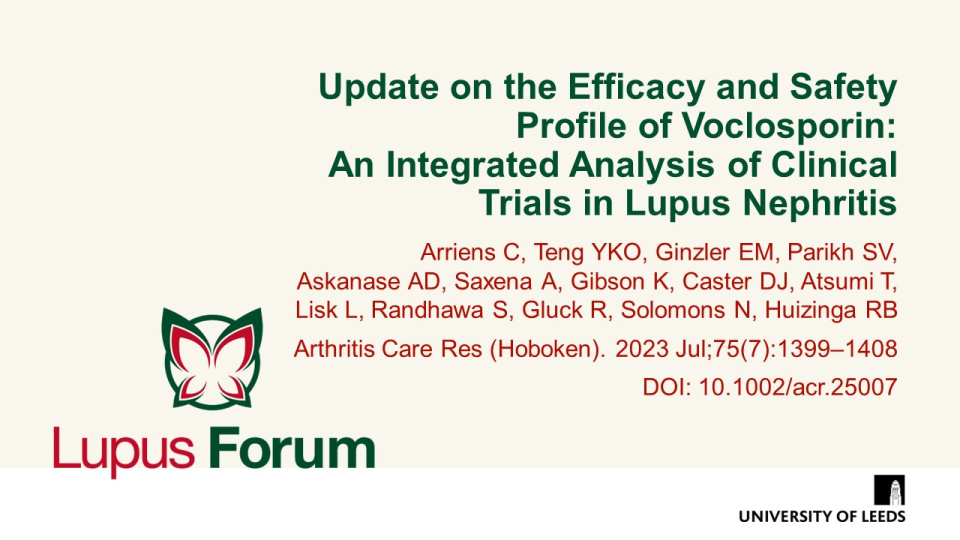 Update on the Efficacy and Safety Profile of Voclosporin: An Integrated Analysis of Clinical Trials in Lupus Nephritis
Medication Cost Concerns and Disparities in Patient-reported Outcomes Among a Multiethnic Cohort of Patients with Lupus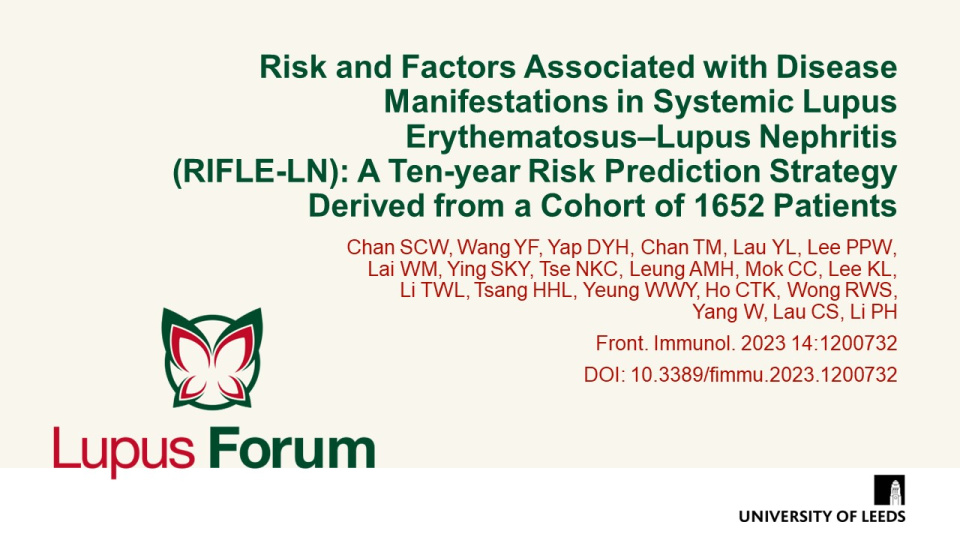 Risk and Factors Associated with Disease Manifestations in Systemic Lupus Erythematosus - Lupus Nephritis (RIFLE-LN): A Ten-year Risk Prediction Strategy Derived from a Cohort of 1652 Patients
Early Infection Risk in Patients with Systemic Lupus Erythematosus Treated with Rituximab or Belimumab from the British Isles Lupus Assessment Group Biologics Register (BILAG-BR): A Prospective Longitudinal Study
Development of American College of Rheumatology Quality Measures for Systemic Lupus Erythematosus: A Modified Delphi Process with RISE Registry Data Review
Belimumab Versus Anifrolumab in Adults with Systemic Lupus Erythematosus: An Indirect Comparison of Clinical Response at 52 Weeks
Machine Learning Identifies Clusters of Longitudinal Autoantibody Profiles Predictive of Systemic Lupus Erythematosus Disease Outcomes
Litifilimab (BIIB059), a Promising Investigational Drug for Cutaneous Lupus Erythematosus
Belimumab and antimalarials combined against renal flares in patients treated for extra-renal systemic lupus erythematosus: results from 4 phase III clinical trials
Clinical and biomarker responses to BI 655064, an antagonistic anti-CD40 antibody, in patients with active lupus nephritis: a randomized, double-blind, placebo-controlled, phase II trial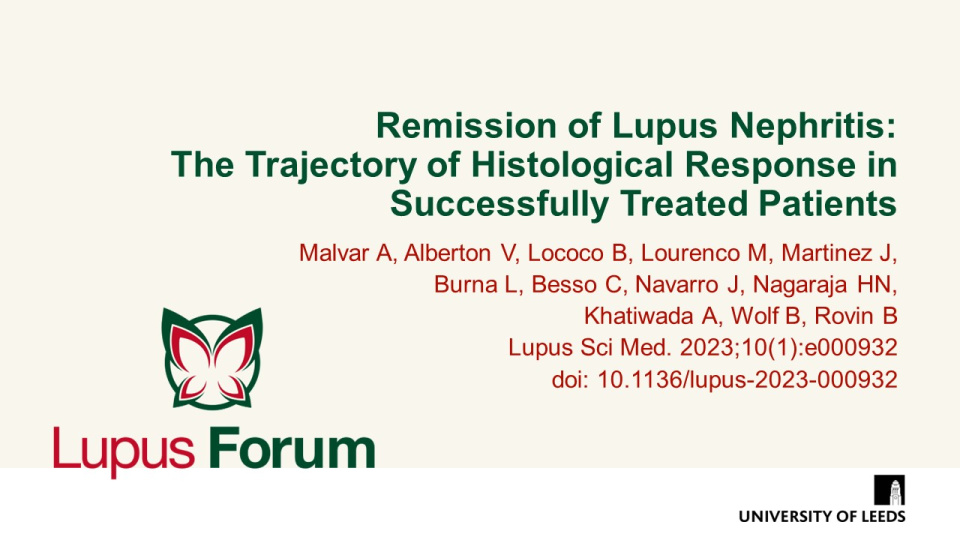 Remission of Lupus Nephritis: The Trajectory of Histological Response in Successfully Treated Patients
Does Remission in Systemic Lupus Erythematosus According to the 2021 DORIS Definition Match the Treating Rheumatologist's Judgment?
Rapid Efficacy of Anifrolumab Across Multiple Subtypes of Recalcitrant Cutaneous Lupus Erythematosus Parallels Changes in Discrete Subsets of Blood Transcriptomic and Cellular Biomarkers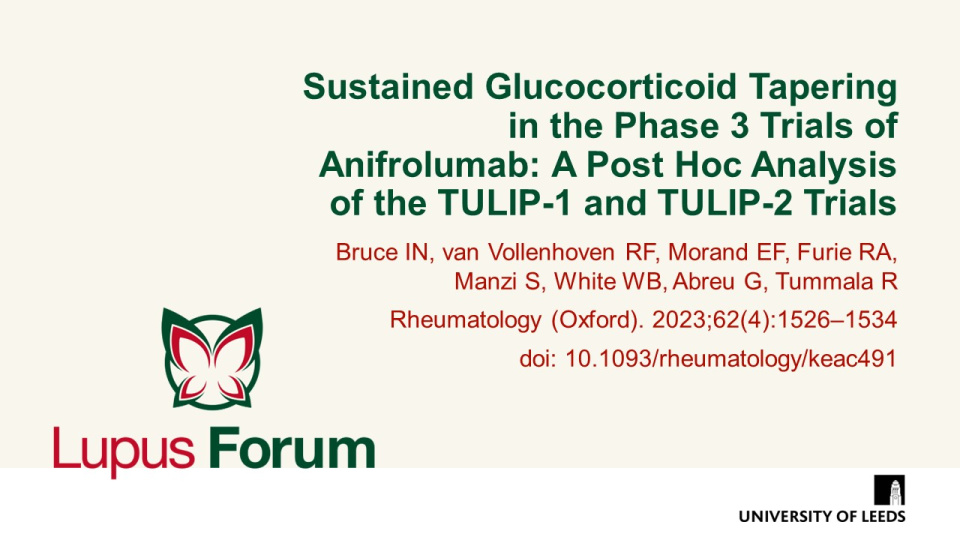 Sustained Glucocorticoid Tapering in the Phase 3 Trials of Anifrolumab: A post hoc Analysis of the TULIP-1 and TULIP-2 Trials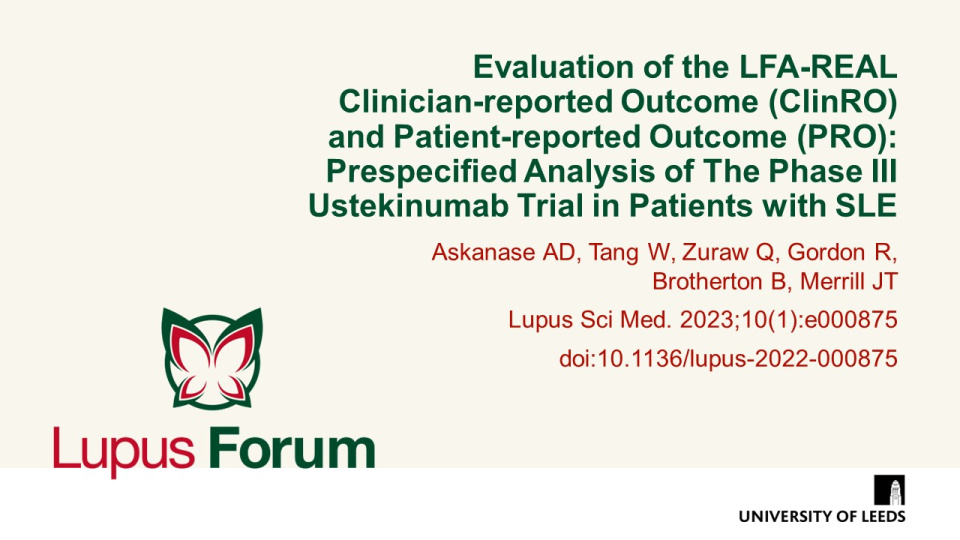 Evaluation of the LFA-REAL Clinician-reported Outcome (ClinRO) and Patient-reported Outcome (PRO): Prespecified Analysis of the Phase III Ustekinumab Trial in Patients with SLE
Baricitinib for Systemic Lupus Erythematosus: a Double-blind, Randomised, Placebo-controlled, Phase 3 trial (SLE-BRAVE-II)
Baricitinib for Systemic Lupus Erythematosus: a Double-blind, Randomised, Placebo-controlled, Phase 3 Trial (SLE-BRAVE-I)
2022 EULAR points to consider for the measurement, reporting and application of IFN-I pathway activation assays in clinical research and practice
Assessing the Costs of Neuropsychiatric Disease in the Systemic Lupus International Collaborating Clinics (SLICC) Cohort using Multistate Modelling
Lupus Low Disease Activity State Attainment in the Phase 3 TULIP Trials of Anifrolumab in Active Systemic Lupus Erythematosus
Relationship Between the EULAR/ACR Classification Criteria and Organ Damage in Systemic Lupus Erythematosus
Aurinia Announces European Approval of LUPKYNIS (voclosporin)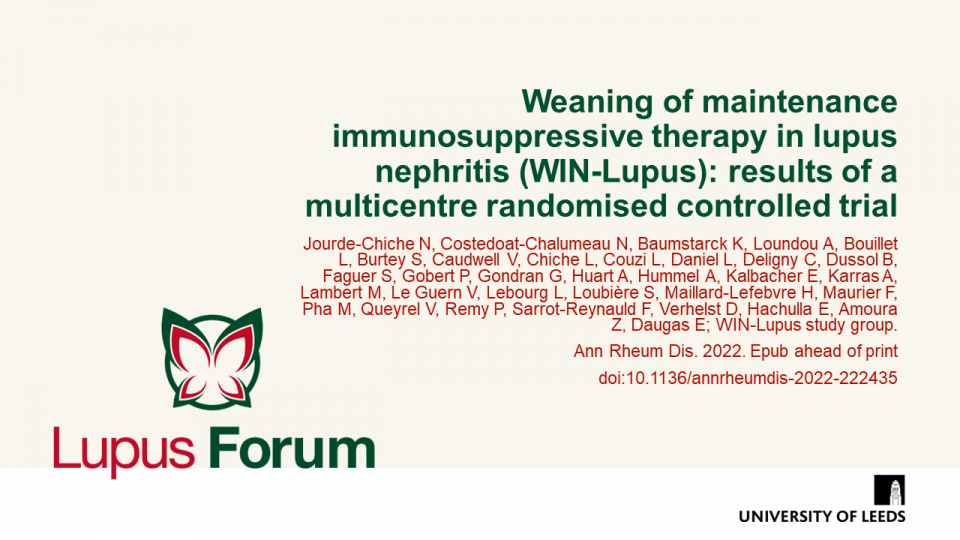 Jourde-Chiche et al, 2022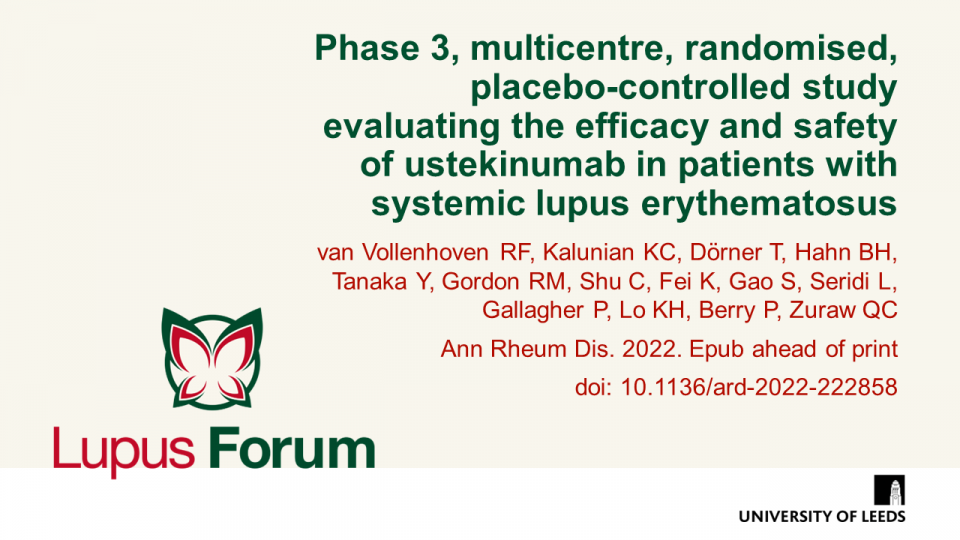 van Vollenhoven et al, 2022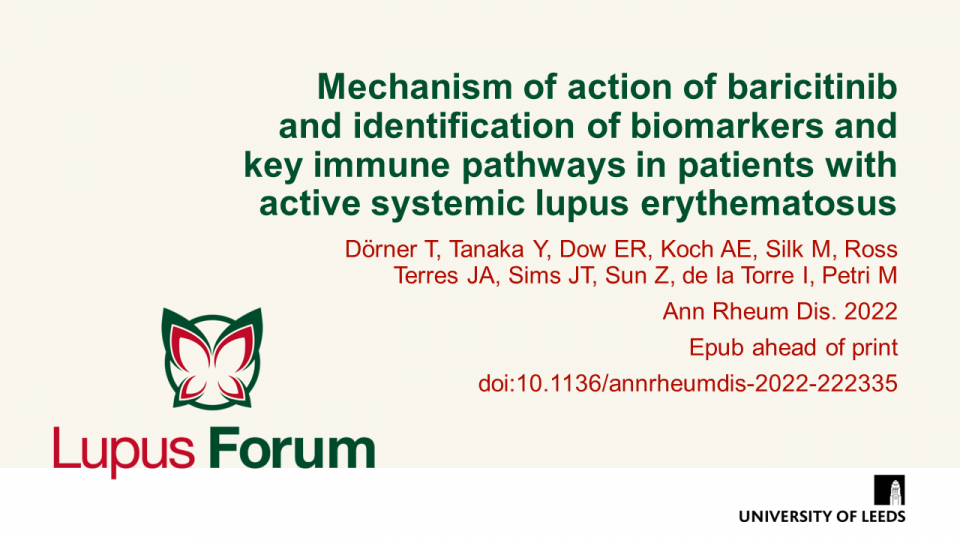 Dörner et al, 2022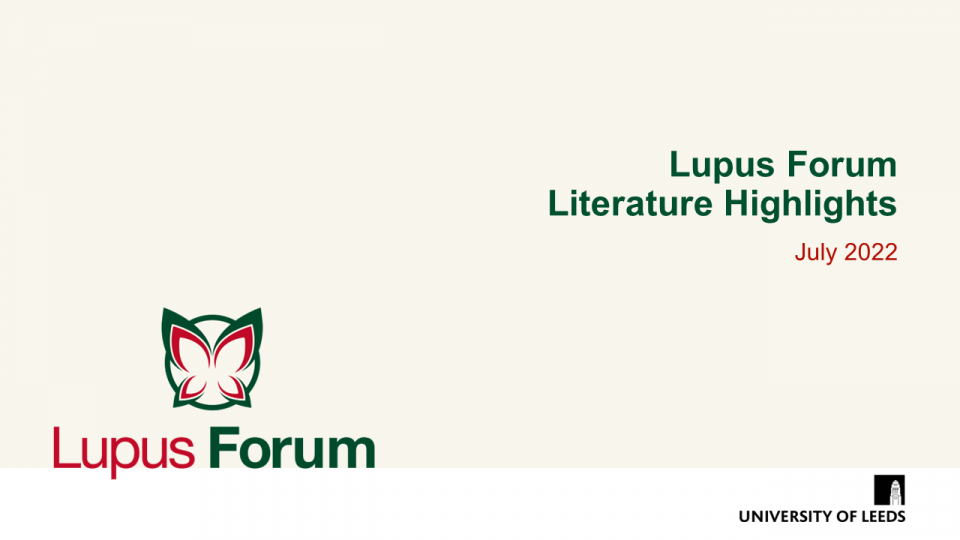 Literature Highlights, July 2022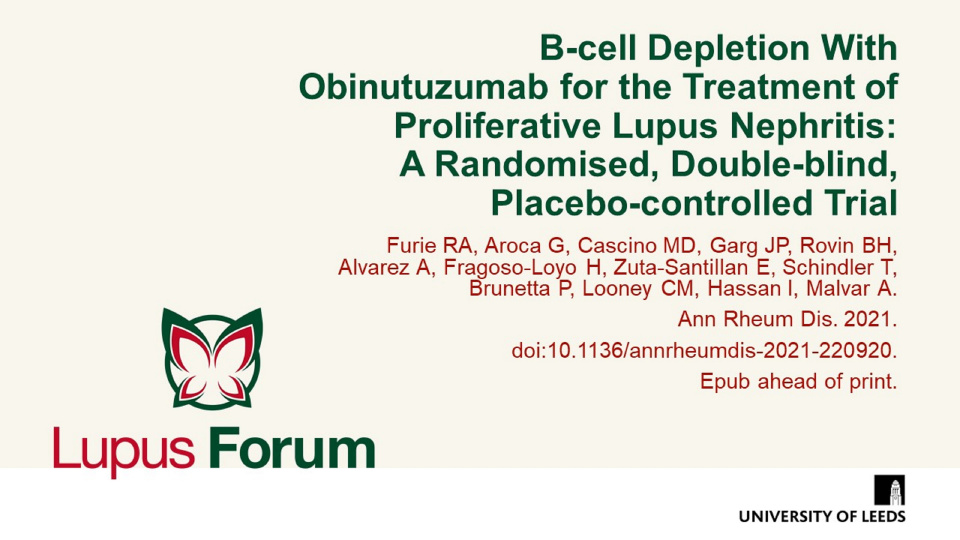 Furie et al, 2021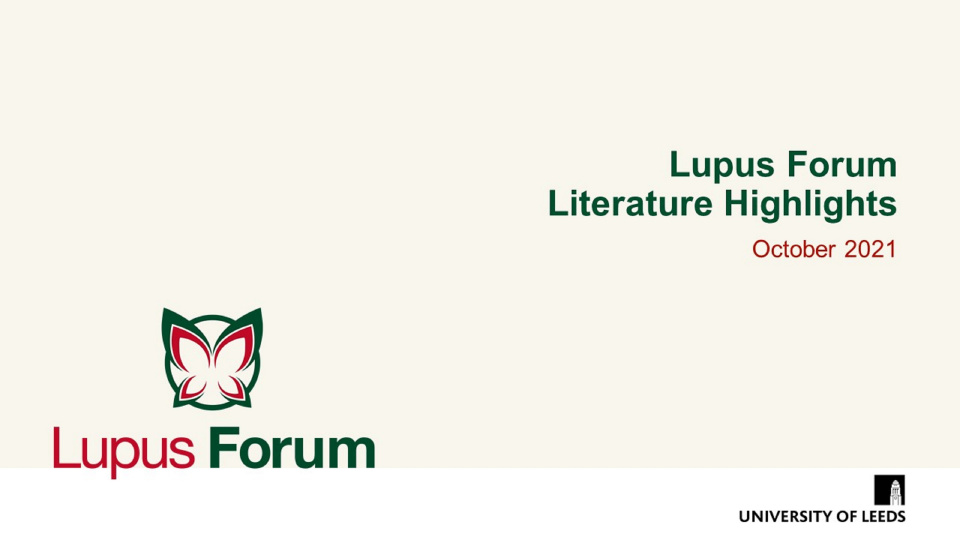 Literature Highlights, October 2021